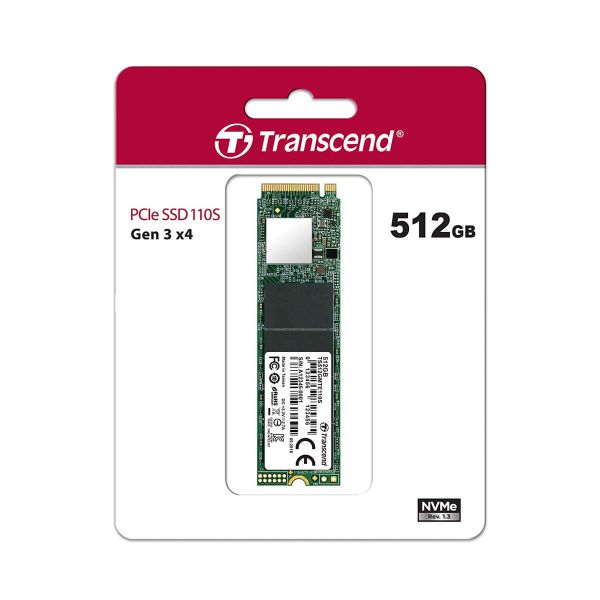 Transcend 512GB NVMe SSD
Transcend's PCIe SSD 110S utilizes the PCI Express® Gen3 x4 interface supported by the latest NVMe™ standard, to unleash next-generation performance. The PCIe SSD 110S aims at high-end applications, such as digital audio/video production, gaming, and enterprise use, which require constant processing heavy workloads with no system lags or slowdowns of any kind. Powered by 3D NAND flash memory, the PCIe SSD 110S gives you not only fast transfer speeds but unmatched reliability.

100% Original
15KM Free Delivery
---
Brand

Transcend

Type

Internal SSD

Appearance

Dimensions (Max.)

80 mm x 22 mm x 3.58 mm (3.15" x 0.87" x 0.14")

Weight (Max.)

8 g (0.28 oz)

Interface

Bus Interface

NVMe PCIe Gen3 x4

Storage

Flash Type

3D NAND flash

Capacity

512 GB

Operating Environment

Operating Temperature

0°C (32°F) ~ 70°C (158°F)

Operating Voltage

3.3V±5%

Performance

Read Speed (Max.)

1,700 MB/s

Write Speed (Max.)

1,500 MB/s

Terabytes Written (Max.)

400 TB

Note

Speed may vary due to host hardware, software, usage, and storage capacity.

Some motherboards only provide PCIe x2 connections for the M.2 slot, creating a bottleneck on even the fastest drives.

System Requirement

Operating System

Microsoft Windows 7 (additional driver required)

Microsoft Windows 8 (additional driver required)

Microsoft Windows 10

Linux Kernel 2.6.31 or later

Note

Please make sure that your computer has an M.2 slot.