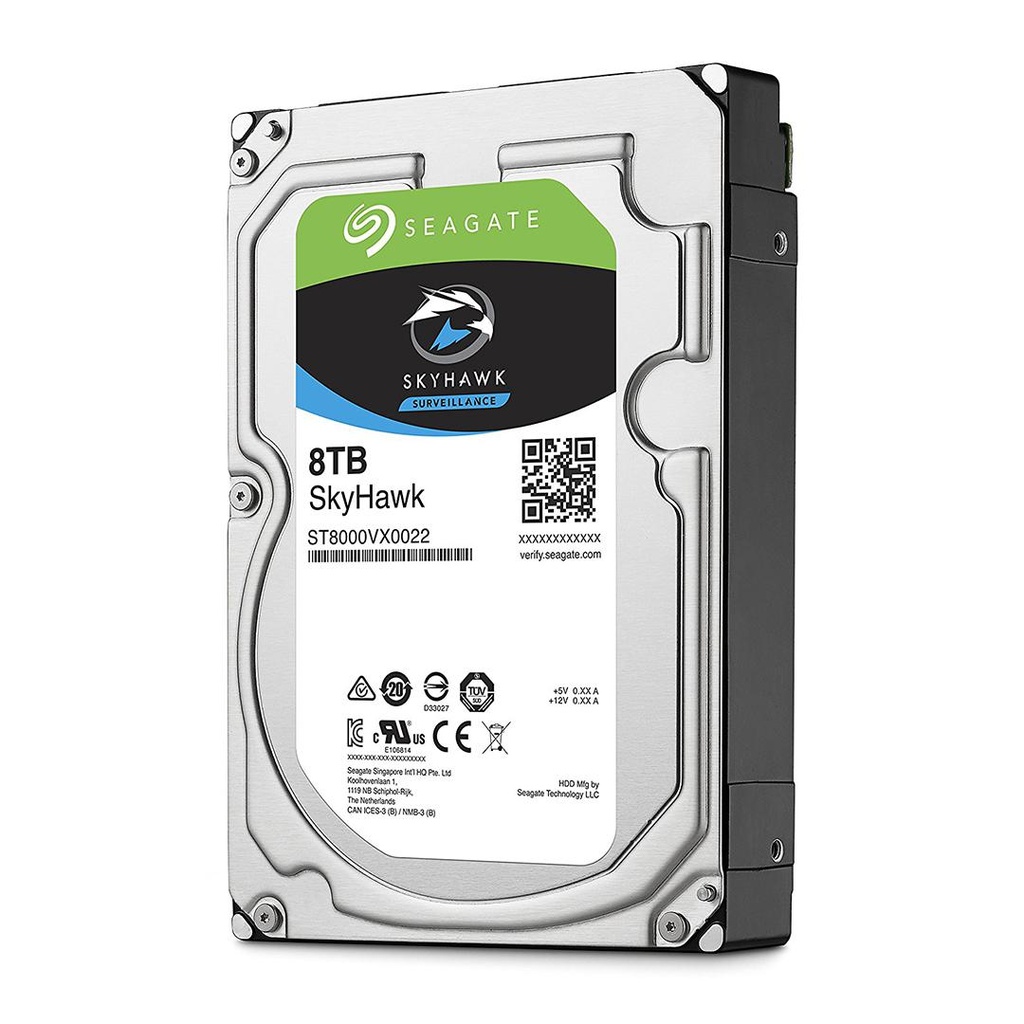 Seagate 8TB (Surveillance) HDD Internal
AI video applications with ImagePerfect AI firmware deliver superior image integrity for random read, 24×7 workloads
Support workloads of up to 180TB/year—that's 64 simultaneously streaming HD cameras with zero dropped frames
Seamlessly tackle data-intensive footage with SkyHawk AI's workload rating of 550TB/year—that's more than 3× higher than standard surveillance-optimized drives
Lower power consumption reduces heat emissions and improves reliability—plus, drives can easily be monitored with SkyHawk Health Management
Enjoy long-term peace of mind with a limited product warranty protection plan that includes three years of in-house Rescue Data Recovery Services

100% Original
15KM Free Delivery
---
SKYHAWK SURVEILLANCE DRIVES
See More. Store More.
Leverage up to 14TB for 24×7 workloads with drives designed for DVR and NVR systems. SkyHawk surveillance drives support up to 64 HD cameras and 32 AI streams, and are equipped with enhanced ImagePerfect to minimize dropped frames. SkyHawk Health Management (SHM) is included.
24×7 Clear Streaming
Improve reliability by up to 30% with surveillance-optimized firmware.
Built Tougher
Rely on 3× the workload rating of desktop drives—up to 180TB/year.
SkyHawk Health Management
Improve overall reliability when your SV system is populated with SkyHawk drives and SHM.
3-Year Data Recovery Plan
Defy user error, data corruption, fire, and flood damage with optional 3-year data recovery plans.
Built for Surveillance
Built for home and SMB surveillance, SkyHawk handles all your video data backup and streaming needs.
Heavy workloads? No problem.
SkyHawk drives are not typical drives. They support heavy surveillance workloads by design.
Smooth Video—Always
ImagePerfect firmware is surveillance-optimized and equipped with vibration tolerance Acutrac technology to ensure perfect video integrity.
Take the Long View
SkyHawk Health Management monitors and analyzes drive health, and offers options to improve performance.