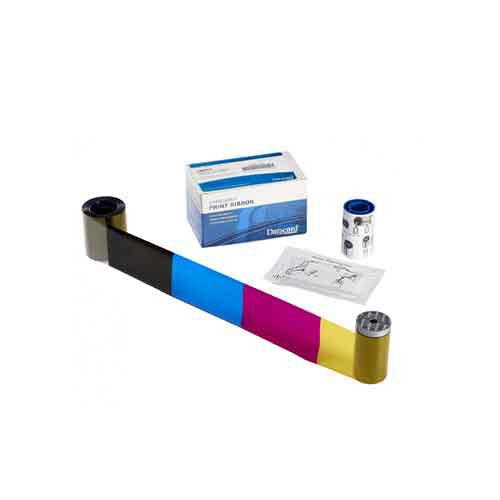 Data Card Ribbon SD260 YMCKT 534000-003
Datacard 534000-003 YMCKT printer ribbon produces the finest full color photo ID cards for the SP35, SP35Plus, SP55, SP55Plus, SP75, SP75Plus, FP65, Fp65i, SD260, SD360 and SD460 printers. This ribbon replaces Datacard 552854-504 color ribbon model.

The Datacard 534000-003 can produce up to 500 card prints with brilliant four-color images and text that is ultra sharp, while adding a clear topcoat layer that protects your cards from abrasion and wear and tear. This ribbon kit includes:

YMCKT full color ribbon including topcoat panel - 500 images per roll
1 alcohol cleaning card
1 adhesive cleaning sleeve
To ensure peak performance of your SP and SD Series printers, we recommend using Datacard Certified Supplies. Datacard Card Printer Ribbons Feature:

Biodegradable ribbon cores that are engineered with EcoPure additive yet still offer the same life cycle, performance and reliability as all Datacard ribbons.
Ribbon Saver that helps eliminate waste by tracking ribbon consumption and notifying you of an upcoming ribbon replacement.
Automatically adjusted printer settings that match the ribbon type and ensure the best possible image quality.
TrueMatch technology that emulates Microsoft-based sRGB color space to seamlessly reproduce true-color on-screen images onto your plastic cards.
Reloadable supplies cartridges with drop-in cleaning roller that includes a print ribbon and cleaning sleeve, and snaps in place without the use of additional tools or adjustments.
100% Original
15KM Free Delivery
---
| | |
| --- | --- |
| PRODUCT TYPE | Ribbons |
| MPN | 534000-003 |
| BRAND | Datacard |
| CONDITION | New |
| DISCONTINUED | No |
| RIBBON TYPE | YMCKO | Standard Full Color |
| THICKNESS | No |
| COLOR | No |
| YIELD | No |
| HOLOGRAPHIC DESIGN | No |
| OVERLAMINATE TYPE | No |
| RIBBON PRINTS | 500 |
| ITEM COUNT | Individual |
| PRINTER COMPATIBILITY | Datacard SD260, Datacard SD360, Datacard SP35, Datacard SP55, Datacard SP75 |
| ADDITIONAL FEATURES | No |