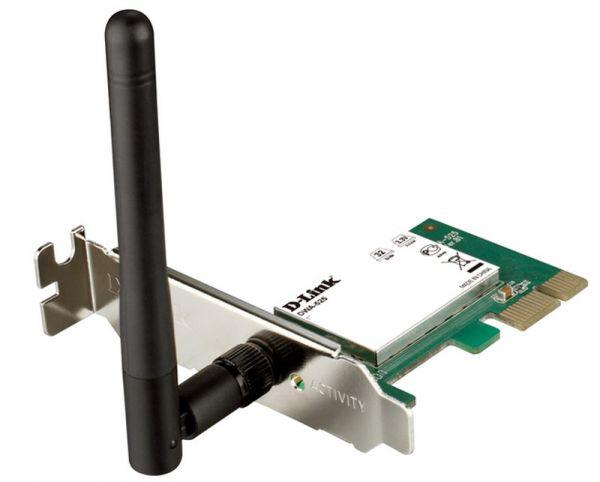 D-Link DWA-525 Wireless N150 PCI Adapter
Upgrade Your Wireless Adapter

D-Link® introduces the Wireless N 150 Desktop PCI Adapter (DWA-525), which delivers high performance wireless connectivity with better wireless reception over standard Wireless G adapters1. Upgrading your notebook or PC with the D-Link Wireless N 150 Desktop PCI adapter will provide an excellent solution for experiencing better wireless performance and faster connection to a high-speed wireless network.

Enhanced Wireless Range

Using Wireless N technology, the DWA-525 provides optimal wireless performance and faster file transfers, which enable you to receive better reception across your home. Not only does the D-Link Wireless N 150 technology extend your wireless range, it is also compatible with previous-generation Wireless G devices.

Easy To Set Up

The DWA-525 makes it easy to set up and connect to your home or office wireless network without professional installation. The DWA-525 includes a Quick Adapter Setup Installation Wizard CD-ROM, which walks you through the easy step-by-step installation process to configure your new DWA-525 Desktop PCI Adapter in minutes. Also included is the Wireless Connection Manager that simply adds and saves the settings for the networks you frequent most.

Easy to Use

The DWA-525 easily connects your desktop computer with an available PCI port to your wireless network for Internet access and file sharing. With Wireless N performance, the D-Link Wireless N 150 Desktop PCI Adapter is the best choice for easily adding or upgrading wireless connectivity to your desktop computer.

Why Wireless N 150 is Better

This Wireless N 150 Desktop PCI Adapter uses Wireless N technology to greatly improve the speed and range of your wireless signal. It significantly outperforms previous generation Wireless G devices* and is designed to work around obstructions.
100% Original
15KM Free Delivery
---